The Wildlife Response and Rehabilitation Center will be a central location where local citizens, animal control officials and other agencies can drop off wildlife; as well as provide a redistribution center for animals where they can be triaged, then sent to permitted home-based wildlife rehabilitators. This facility will provide state of the art veterinary care, and a safe recuperation site for wildlife brought there. WRI will also provide security for the Center by having a caretaker onsite, thus maintaining the property's integrity and minimizing the risk of vandalism and trespassing. Most recuperated wildlife will be released offsite in appropriate habitat. Release criteria depends on variables such as weather, time of year, species of animal, age of animal or number of animals.
When the Center opens, it will launch an expanded educational platform for WRI that will be used to cultivate an understanding of our immediate environment and the wildlife that we cohabitate with. This portion of WRI's mission will be fulfilled with onsite and offsite programs which may include "wild ambassadors" (animals unable to be returned to the wild but can help spread the message of wildlife conservation).

The Center is currently under construction and not open to the public.


Administrative Building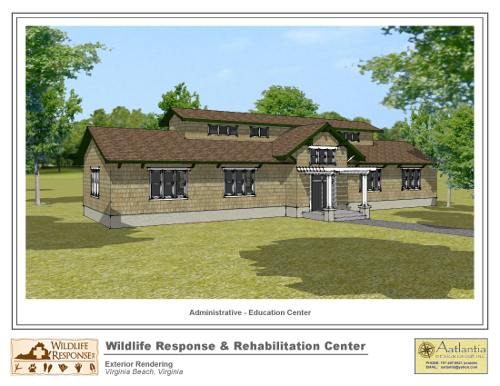 The 2000 square foot Administrative Building will provide heated and cooled office and training space for the WRRC. Room will include a large and small conference/training rooms, five offices, reception, small kitchen and restrooms. The larger conference/training room will also serve as a flex space for WRRC training and meeting needs.


Aquatic Bird Center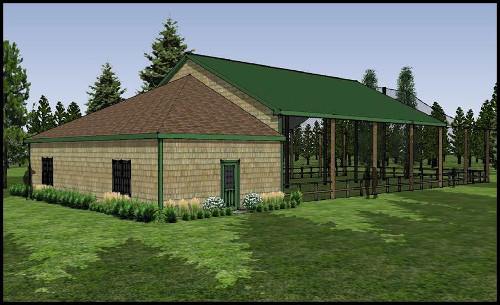 The Ruth MacQueen Aquatic Bird Center will consist of a roughly 1000 square foot enclosed, heated and cooled area for food preparation, cleaning and treatment; and almost 4500 square feet of outdoor habitat space, which will be partially-covered and enclosed with netting and provided with pools in which the birds can swim. The area will be provided with an oil separator so that the structure can treat oil spill victims.


Bat Towers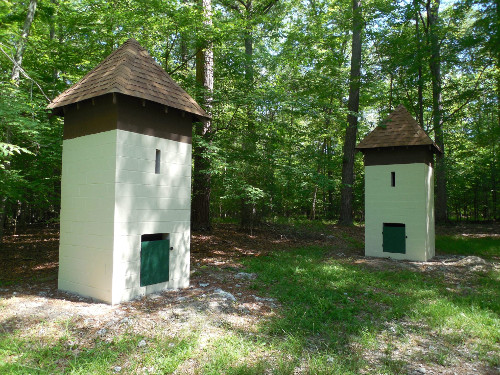 The Bat Towers provide shelter for indigenous Rafinesque's big-eared bats, which are a state endangered species in Virginia. Working with staff from the Virginia Department of Game and Inland Fisheries (VDGIF), WRI' s building committee has developed the design of the two 14-foot tall structures, the first of their kind in the Commonwealth of Virginia, for construction in the area's 110-mph wind zones. The prototypes generally follow the design of a square tower structure, which originated in Texas, but had previously never been employed in Virginia. Only a handful of states are reported to have built large-scale towers of any type.


The two Bat Towers are constructed of almost 500 reinforced concrete masonry units on 18-inch deep reinforced concrete footings on the 32-acre WRRC site. Small openings in each tower allow access by the bats, but prevent predators from entering. Strategic placement of dark exterior finishes help the structure draw heat from the sun, and keep the upper portions warm in the colder Winter months.


The masonry for the two Bat Towers was completed by Dan Thompson of Blackstone Masonry, LLC through the generous donations of Pat and Suzanne McBride, longtime supporters of WRI and WRI' s foremost authority on bat rehabilitation, as well as other anonymous donors.


Caretaker Residence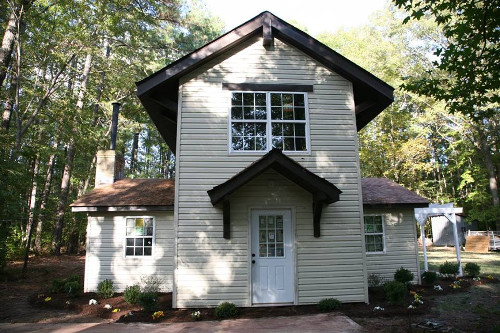 The Caretaker residence is a 1300 square foot; two-story building that will house the WRI Caretaker-in-Residence and serve as the initial triage area until the Medical Building is completed. The residence will have a reception area, living quarters, kitchen, laundry and office, as well as a small interior caging area; and house the Center's CCTV monitoring station.


Chimney Swift Tower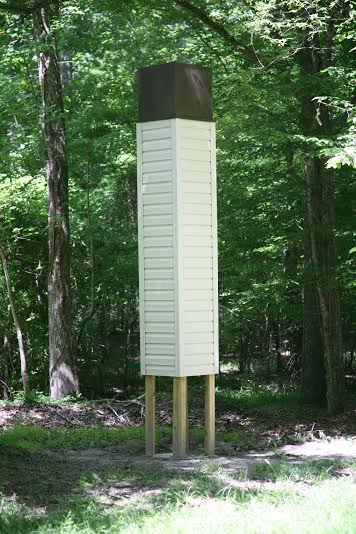 The Chimney Swift Tower is a special design used to emulate an actual brick chimney, which turns out to be an ideal place for the birds to build their nests. Provided with horizontally grooved surfaces inside, a layer of insulation and conventional residential siding outside, the area provide safety from predators and weather for the birds to raise their young. The Tower was deliberately located next to a large open area to facilitate their need to hunt flying insects.


Eagle Flight
The 2000 square foot Eagle flight will serve as a partially shaded and fully enclosed protected area where various raptors can exercise and practice flying for rehabilitation of various wing injuries. The very generous length of the Flight makes it suitable for Eagles, not to mention numerous varieties of smaller Raptors, such as Hawks and Owls. The structure is designed to resist high wind loads, and consists of several rows of pressure-treated power poles of over 20 feet in length, set in over 4 feet of concrete and connected overhead with pressure-treated wood trusses.


Maintenance Shop Building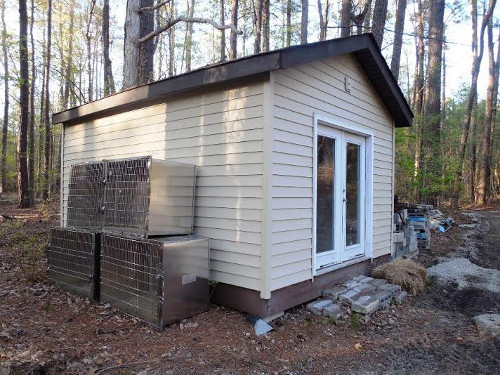 This 12x20 foot wood frame building is elevated over moveable wood skid piers and enclosed with siding and roofing to match the nearby Caretaker's Residence. In addition to a small workshop and office area with telephone and computer station, it will contain all tools and equipment for the proper maintenance of the WRRC facility.


Medical Building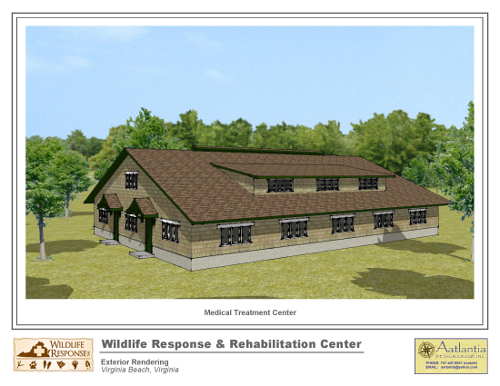 The 4000 square foot Medical Building will service as a full-service wild animal hospital with a lab, x-ray equipment, and various treatment areas for all native species. In addition to the medical spaces, there will be a waiting area, offices, file and supply storage and restrooms, etc. The area will be also equipped with a receiving area and a large interior space for emergency triage out of the weather. In addition, an exterior covered area will allow for temporary flex-space, cage cleaning and reconfiguration.


Raccoon Village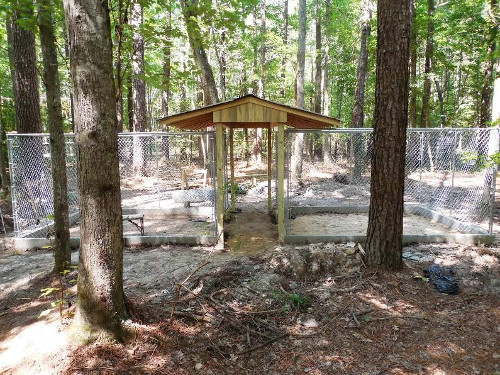 The Adolphus Summer Raccoon Village consists of two 120-foot cage structures over seven feet tall each, separated by a roughly four foot wide passage under a roof canopy, and is designed to be expandable in modules of the same size. Because of new design standards, these cages are made entirely of non-combustible materials, such as the concrete masonry unit stem walls. These walls continue below grade to concrete footings, and support a galvanized metal structure and chain link fence material. This design provides for thorough cleaning and protection from outside predators, and will have its own water provided by a nearby Solar-Rain Collection Tower, and drain through its own leech field.


Raptor Mews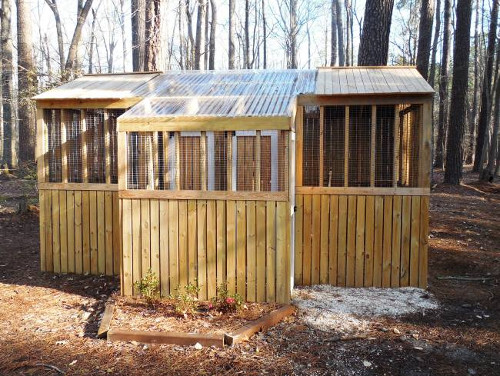 The two distinct and remotely-located 8x16 foot pressure treated wood structures are designed to hold several birds of prey each, and have a center-dividing wall that keeps certain species from seeing each other. Each side is provided with sturdy pressure-treated wood planks for predator control from the ground to four feet up, and high gauge metal screen above that for flying predator control while allowing light and air to enter. Both structures are capable of being relocated if needed.


Reptile & Amphibian Building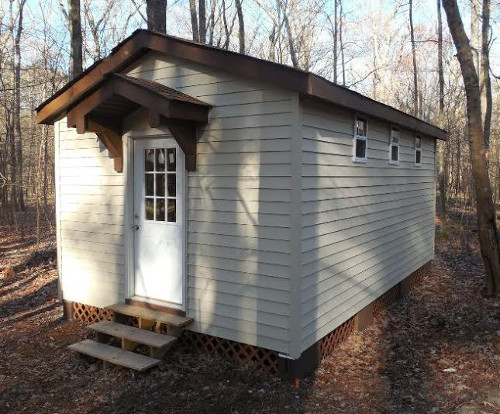 This 12x20 foot wood frame building is elevated over masonry piers and enclosed with siding and roofing to match the nearby Caretaker's Residence. Numerous small windows at the top of each wall allow ample diffused natural lighting while maintaining maximum wall space for rows of glass aquariums and a center counter for feeding, maintaining and caring for the resident reptiles and amphibians. A PTAC unit will provide heating and cooling to maintain optimum temperatures.


Solar-Rain Collection Towers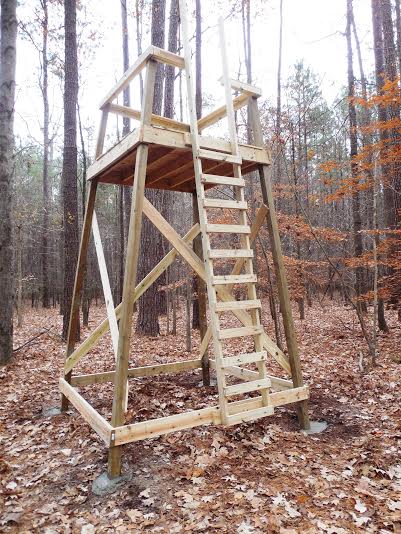 The two existing Solar-Rain Collection Towers are constructed with sturdy pressure-treated wood structure and elevate a solar panel and several rain collection barrels above "under-story" canopy level. The tower posts are set in concrete and can be enclosed for material and food storage when needed. Two towers have been completed and several more are planned for the future expansion to provide water and power for remote locations.


Songbird Enclosures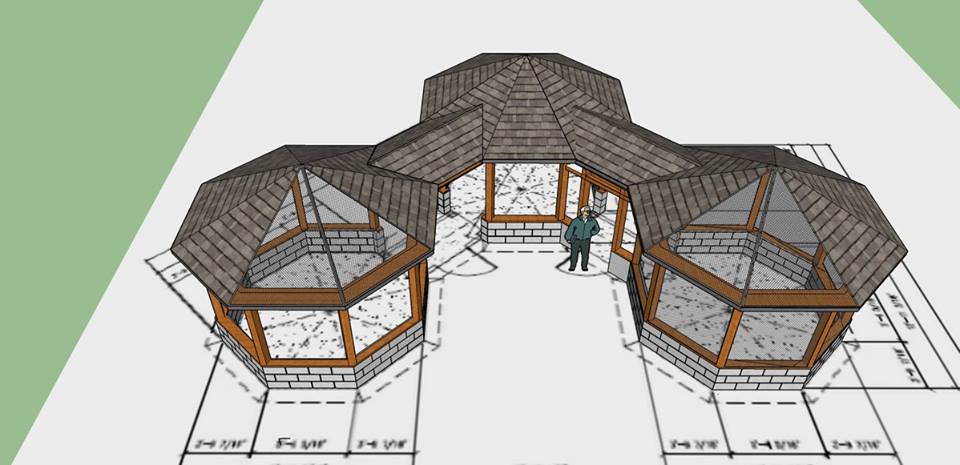 The Songbird Enclosure consists of three 14-foot wide octagonal gazebo structures arranged in a triangle with connecting vestibules to avoid accidental escape or intrusion by a predator. Solid concrete turned-down slab and footings at the perimeter, along with a solid concrete block stem wall, prevent digging or other intrusion by predators as the songbirds recover safely inside. The interior is almost 10 feet in height with deep overhangs to offer protection from the weather while allowing the birds to be re-introduced to the elements during their rehabilitation, and roomy enough inside for practicing flight, as potted trees and other natural surroundings will line the perimeter and overlook a pea gravel center floor.